Game Of Frog: The Basirisky Part.2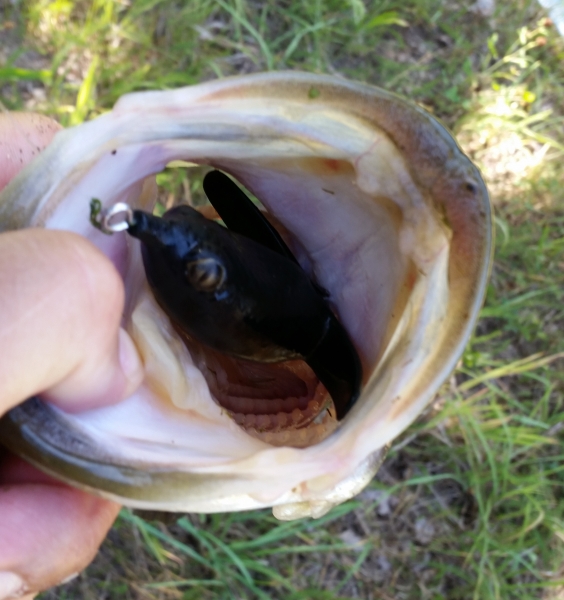 Cet été, dans le Sud-Ouest, je pus, non pas confirmer l'efficacité de la Basi mais tout simplement me gaver de cette pêche unique, avec des bass loin d'être farouche, prêt à tout pour se boulotter une grenouille qui marche sur l'eau... Je rencontra Alexis, un jeune et talentueux pêcheur, qui m'expliqua sa façon de pêcher et me donna pas mal de tuyaux sur le comportement des bass locaux, merci encore Alex, tes conseils ont été très précieux ! Après une première entrevu en fin de journée avec Alexis, la Basirisky ne se fit pas prier et un premier bass du Sud-Ouest cru 2016 pointa le bout de son nez en gobant madame frog.
Rendez-vous pris pour une plus longue session, Alexis passe et me ramasse, nous arrivons à un premier plan d'eau ou la Basi ne mit pas longtemps a être jetée.. Elle crowl insouciante sur l'eau quand un sillon dans l'eau fonce droit sur cette dernière, les poils se hérissent, un premier gobage loupé, je continu de ramener madame frog doucement mais surement comme si rien ne s'était passé et un deuxième gobage fait disparaitre la frog comme par enchantement... Je rends la main et ferre fort, mais malheureusement la frog ressort de l'eau... on continu et mon guide local va gratter dans un endroit improbable et strike immédiatement, bien joué mec !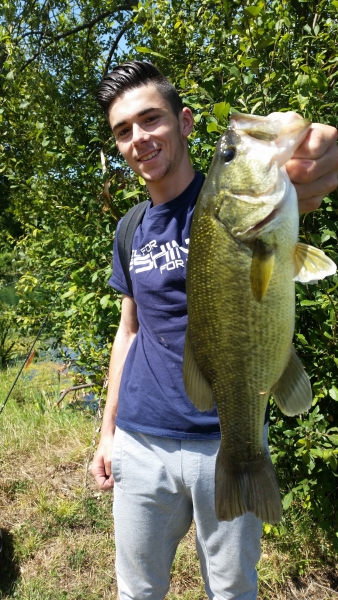 Toujours armé de la Basi, je prospecte et effectue un lancé dans une trouée sous un arbre, Alexis me dit, « ça sent le bass ce lancé » et à peine finit sa phrase, un gobage propre se fit entendre, la Frog disparut, je ferre dans le dur, la Huge 64 plie et garde en tension la ligne forçant le bass à sortir de sa cachette, c'est chose faite :
Alexis refit d'autres prises mais dû écourter la session... dommage, on s'en refera d'autres j'espère et pourquoi pas à domicile que je te fasse découvrir les lacs et rivières locaux !
Je pus refaire une session éclair motivante, madame va faire une course à côté du plan d'eau, j'ai la Huge, une Basi Hard Belly 70 Night Head et une folle envie de revoir un sillon se diriger à 100km/h vers ma Frog. Je fais un lancé en pleine eau, je ramène lentement, je vois mal car la zone est dans l'ombre et le soleil m'éblouit, mais je discerne rapidement un premier remous derrière la frog, tonton green devil est là et il a la dalle, puis il réattaque sans louper cette fois, la Huge plie, je suis dans le dur, le bass drague les algues et s'alourdit, ça y est, il est au sec avec la Basi dans le fond du gosier :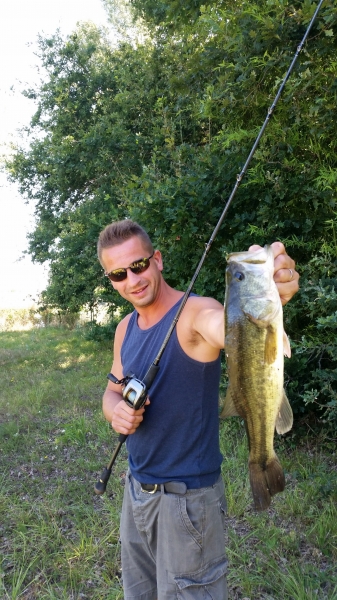 Je relance la frog juste après le release, et là, un sillon arrive à fond sur la Basirisky et l'engloutie en tiraillant la ligne, je sens l'adrénaline monter, je ferre dans le dur, plus petit mais agressif, un vrai roquet...
2 bass en moins de 10 minutes, ça fait réfléchir... Je vais peut-être tenter une négociation avec la patronne pour aller les taquiner pendant qu'ils sont chauds.
To be continue...