Ever Green Heracles FACT Series - The ultimate Tournament Weapons
Hi Guys!
Since last week Peter and I are back from the 3rd Social Tournament of the spanish Fishing Club A.D. Caspebass. The fishing conditions were really though, we had water temparatures up to 30°C and the sun burned our heads. The small Bass were really active and we caught a dozen of them, but the big ones were lazy. They cruised around the big points and you have to find the correct time and way to catch them.
This was the best chance for me to test the new Ever Green Heracles FACT Rod Series under Tournament conditions. After a few casts I was totally fascinated. You know at my last reviews I fished this rods at my home lake in Vienna which is full of weed, but at Lake Mequinenza with his rocky points and heavy structure I felt the full potential of these series. The combination with the solid tip makes the Heracles FACT Rods ultra sensitive, you feel immediately when your lure hits the bottom or structure - it is like a electric impulse in your hand!
The first setup which I fished during the hole week was:
Rod: Ever Green Heracles FACT 66MST
Reel: Daiwa Steez 100HL
Line: Ever Green Bass Seil Magic Hard R 10lb
Lure: Ever Green Fact Craft #27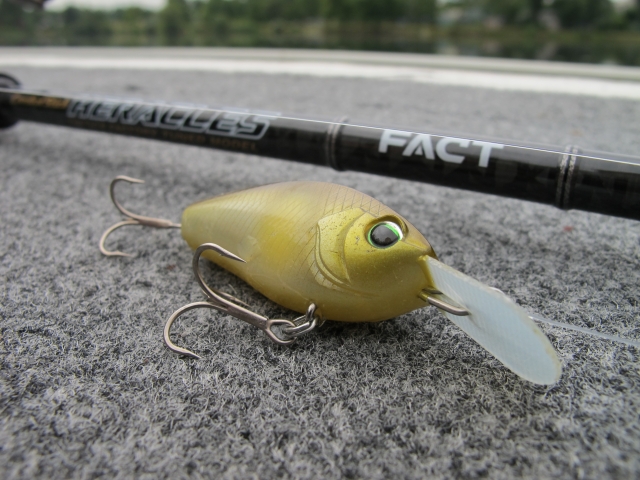 The HFAC-66MST is a rod which you can fish all day long. It is super light and casts smoothly. I used it too under windy conditions with small lures like the Ever Green Craft and had no problems with backlashes. The first hardcore test for my Heracles FACT 66MST was a Bass with around 4 pound. In the first moment I thought I hit a rock, but then he started to move
... It was a long time ago that I caught a Bass like this on a ulta-light rod, but it was no problem to handle!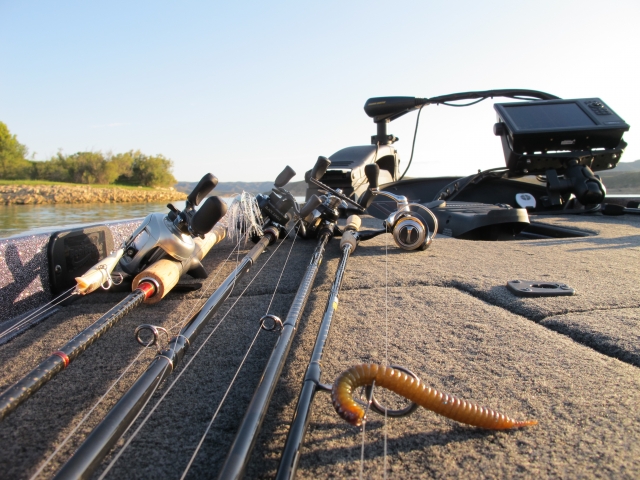 The second setup was:
Rod: Ever Green Heracles FACT 70HST
Reel: Daiwa Zillion 7.3 Limited
Line: Ever Green Bass Seil Magic Hard R 12lb
Lure: Ever Green Double Motion 3,6inch with Owner Jika Rig 1/0 7g
I used the same setup in my last review, but this time I punched it into heavy cover and "Yeah" it was no problem to handle Bass up to 4 pound. The new HFAC-70HST and the Fluorocarbon with only 12lb do their job!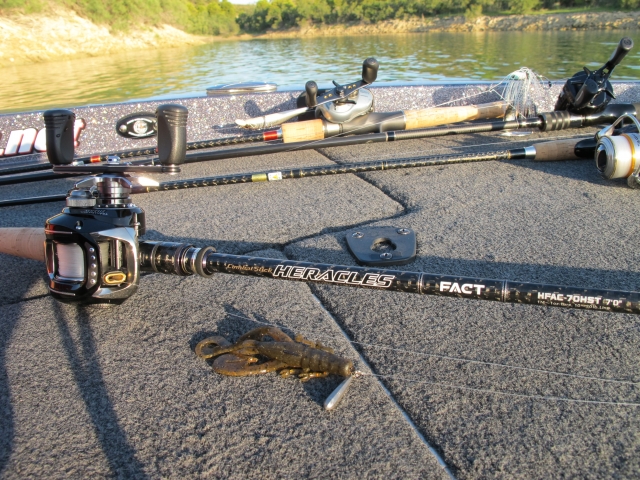 With the new Heracles FACT series designed Ever Green in cooperation with Ken Fukushima the ultimate Tournament Rod Collection. If you have this three casting rods on your boat, you are equipped for Crankbaits, Jerkbaits, small Spinnerbaits and Jigs.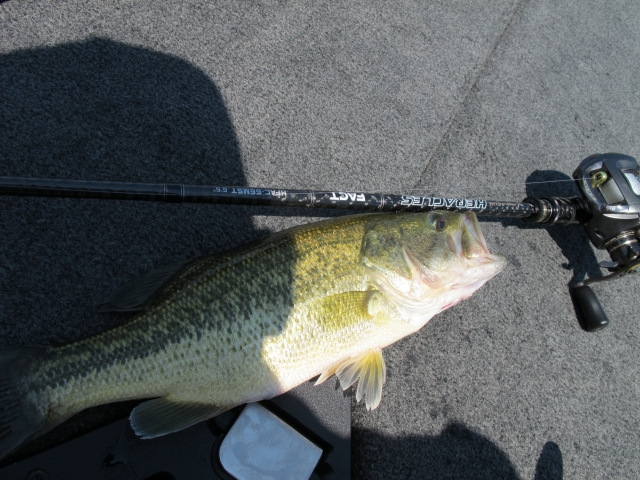 At the 3rd Social Tournament Peter and I made a good start with the 5th place, but the second day was terrible. We caught a couple of Bass, lost a good one and finally it was not possible to bring a keeper to the weight-in. In the General Competition Ranking we are now on the 8th place. Primarily this was good pratice for me and Peter for the Caspe Bass, the biggest Tournament at Lake Mequinenza during the year ... So "Better Luck for the next Time"!!!
Tight Lines, Christoph
All shown products are available at www.anglerwelt.net