Bass Fishing @ Lake Caspe, Spain Summer 2013
Hi Leute!
Seit dieser Woche bin ich wieder retour von meinem Spanien-Trip und leider konnte ich keine erhofften DEKA BASS Fotos erbeuten. Die Bedingungen erschienen mir zwar um einiges besser als letztes Jahr um diese Zeit, wo der Wasserstand gute 10 Meter unter dem jetzigen war. Trotzallem spielten die kapitalen Schwarzbarsche nicht so richtig mit. Wir konnten über unsere Elektronik zwar einige nette Spots ausmachen und fanden auch den ein oder anderen guten Schwarzbarsch, jedoch konnten wir mit den diversesten Techniken und Ködern nicht mehr als Nachläufer provozieren ... Topwater, Crankbaits und Spinnerbait ... sämtliche Power-Fishing Techniken blieben ohne Erfolg!
Tja, da blieb uns nicht viel über und wir mussten auf meine etwas verhassten "Finesse-Techniken" umsteigen. Widerwillens griff ich zu meiner Drop-Shot Rute und bereits nach Kürze stellten sich die ersten Erfolge ein, zwar keine Monster aber Keeper. Auch Methoden wie Shaky-Head oder Split-Shot Rig brachten einige mittelprächtige Schwarzbarsche zu Tage. Trotzallem eine ewig lahme Fischerei, bei dem es darum ging kleine bis mittelgroße Softbaits in hohe Gewässertiefen zu bringen und so den ein oder anderen Biss zu provozieren. Auch unsere Versuche die zeitigen Morgenstunden zu nutzen brachte nur einen mässigen Erfolg, die durchschnittlichen Wassertemperaturen von 27°C paralysierte die Schwarzbarsche und machte sie Bissfaul ... ich kann nur hoffen, dass unser Trip im Herbst erfolgsversprechender aussieht!!!
Die frühen Morgenstunden, einer der schönsten Momente für mich am Wasser.
The Power of Mercury 4 Stroke ;-)
An diversen "Hot Points" brachte der Griff zur Spinnrute den ehesten Erfolg.
Ein gerade noch Keeper auf Jackall Bros. Soul Shad.
"On the Run" ... beste Art der Faltenstraffung bei 95 km/h
El Prèsidente mit gut genährtem Burschen!
In dieser Woche legten wir einige Kilometer zurück, aber leider blieb der erhoffte Deka Bass aus ...
Ready for the Ramp ...
Über Barsche dieser Größe kamen wir bei diesem Trip leider nicht hinaus, zwar gut genährt und gebaut aber bis zum Monster fehlen ihnen ein paar Jährchen ;-)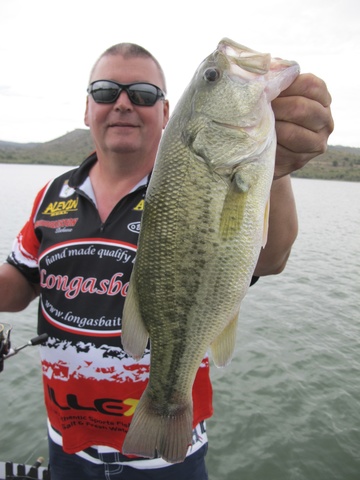 Landschaftlich ist der Caspe Stausee einfach nur genial, ein wahnsinns Ambiente zum Angeln. Strukturen und Cover ohne Ende.
In Summe war der diesmalige Trip als kleines Training für das große Turnier die "CASPE BASS" Ende September geplant. Naja, als Resumee kann man schon mal sagen das Peter und ich unter diesen harten Bedingungen den ein oder anderen Keeper ausfingig machen und überlisten können ...
... was aber bestimmt nicht einfach wird, ist das tägliche Limit von fünf Fischen zur erreichen. Na dann können wir nur hoffen das sich die Verhältnisse bessern und der Wettkampf vielleicht durch "POWER FISHING" entschieden wird ... eines ist aber sicher, meine Spinning Rods lasse ich nicht Zuhause ;-D
Tight Lines, Christoph