Fishin' on the Dock of the Bay
De passage en bord de mer pour Noel, je ne pouvais pas rater l'occasion d'aller déglinguer quelques vieilles en mode revival de cet été. Je pars donc le matin de Noel pour arriver au bord de l'eau pour la fin de montante sur une zone sablo-vaseuse où les vieilles viennent se nourrir. Il y'a deux ans, au même endroit, j'avais cartonné avec une Dolive Shrimp 3'' en texan plombé 7gr à gratter sur ma Light Cavalery Evergreen. Je remet donc le couvert et je n'attends pas longtemps pour percevoir les premières petites touches de petites vieilles. J'en fais une, puis une deuxième mais ce sont vraiment des petits poissons qui s'y reprennent à plusieurs fois pour engamer.
Finalement, je prends une touche plus nette que les autres et je ferre un poisson qui s'agite un peu plus. Je le vois arriver, je pense à une belle vieille mais il se met à plat et ne combat plus... un poisson plat ! Mon premier aux leurres. J'adore faire de nouvelles espèces, c'est un vrai plaisir. Après investigation, il s'agît d'une Plie...
Que ces poissons plats sont étranges... ça m'a toujours fait halluciner qu'ils nagent sur la tranche étant juvéniles puis leurs yeux migrent d'un côté de la tête et ils nagent à plat... encore une sacrée fantaisie de la nature.
Quelques lancés plus tard c'est une lourdeur dans la ligne qui m'incite à ferrer. Encore un poisson au bout et encore un poisson plat.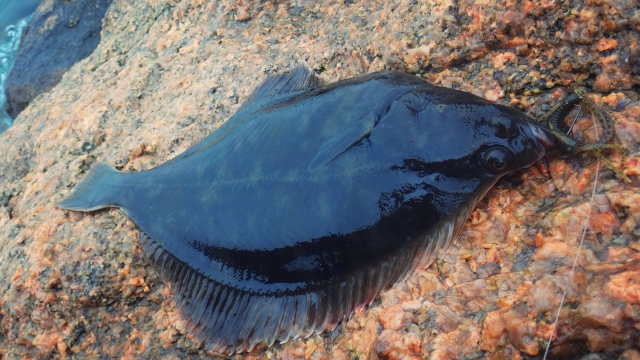 Plus foncé mais on m'a dit que c'était également une Plie. pourtant, les yeux ont migré dans l'autre sens...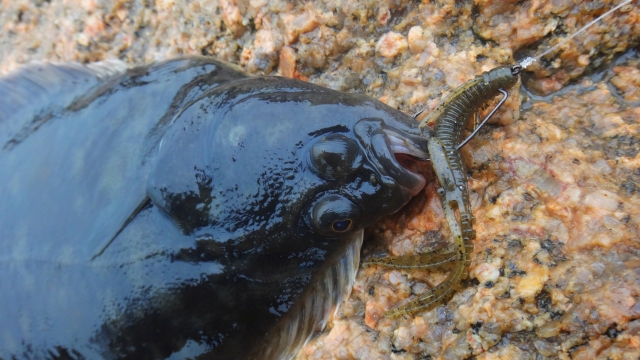 Pour la fin de ma session matinale, je me décalle sur une digue plus abrupte et avec un enrochement plus important, histoire de déloger une vioque correcte et c'est après deux suivis de sujets modestes que je prend une bonne grosse cartouche en remontant le tombant. Ca fait plaisir...
Après la perche, le chevesne, le silure, le bar ou la vieille, la Dolive Shrimp ajoute une nouvelle espèce à son tableau de chasse... la Plie (rien à voir avec l'Apple Store). J'adore ce leurre !
Latest from Agogué Olivier